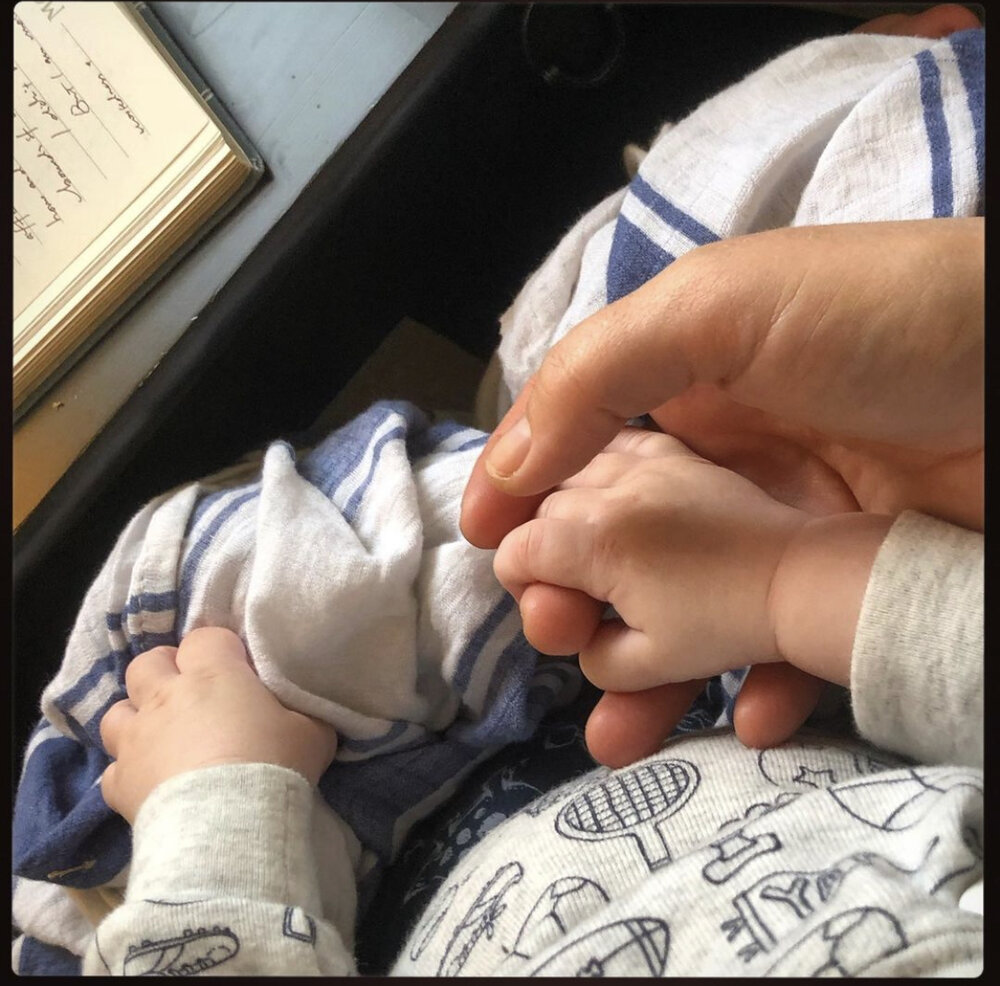 So many times in my life, there came upon me miraculous gifts, wrapped in normal moments, that will forever be a true reflection of life at its sweetest. I found this photo of Sarah with baby Samuel and it reminded me of my little Joy as a baby. After 3 miscarriages, one in which I hemorrhaged and almost died, at almost 42, I had Joy, my "prayed for" little girl. I nursed her forever, because I knew she would be my last. I loved holding her sweet, warm, squishy body close, singing her the songs that came to mind at the moment and just looking into her chocolate chip brown eyes.
While nursing, she had the habit of patting me gently, as if to say, "I really love being close to you. You are a mine, mama." Of course she did not say those words, but she was totally at ease, relaxed, protected in the circle of my arms, and giving back to her mama with the sweet little hand pats.
How amazing that God created us to bring life into the world and then to sustain life with our own bodies in such a precious way. Even more amazing, though, is that God uses this very reality to show us His tender and gentle love. When God wants to comfort Israel through passages inIsaiah to let them understand just how dearly he loves them and how lavishly He will bring about restoration and comfort to them, He who created mothers to be a picture of love, tenderness and comfort, uses this image of Himself to show just how His love will be extended.
"Be joyful with Jerusalem and rejoice for her, all you who love her; Be exceedingly glad with her, all you who mourn over her,
That you may nurse and be satisfied with her comforting breasts, That you may suck and be delighted with her bountiful bosom."
For thus says the LORD, "Behold, I extend peace to her like a river, And the glory of the nations like an overflowing stream; And you will be nursed, you will be carried on the hip and fondled on the knees.
"As one whom his mother comforts, so I will comfort you; And you will be comforted in Jerusalem."
Isaiah 66:10-13
And so, as a mother who cherishes her child, so God cherishes us, His chosen. Isn't that amazing to know.
May we know His comforting love today.