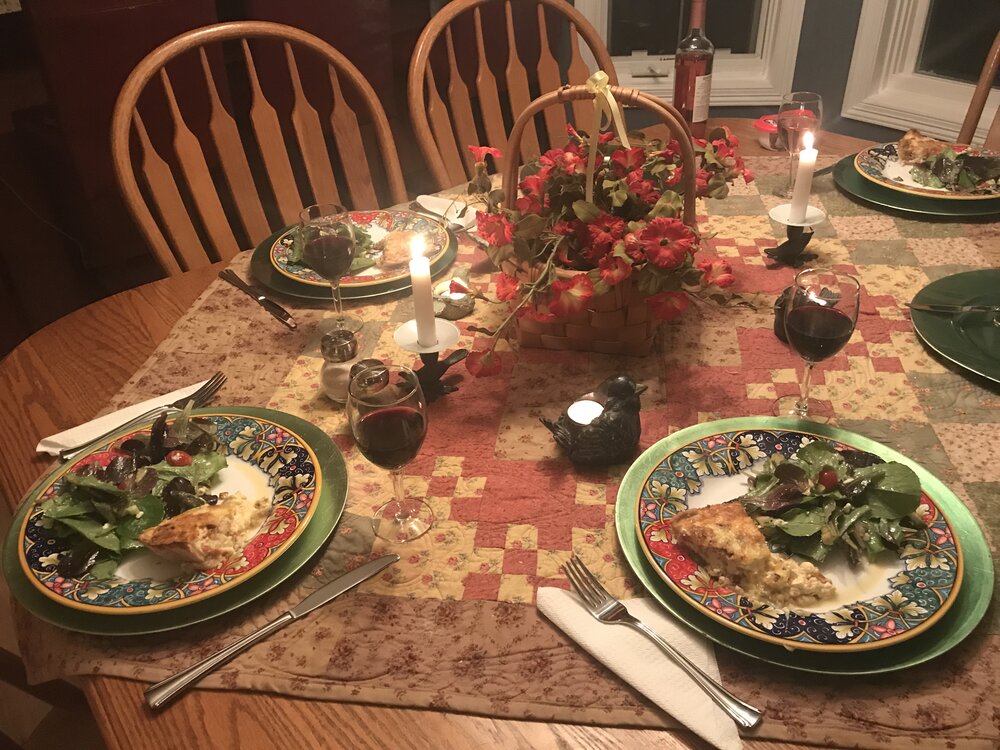 Click here to listen to today's new podcast.
Life seems to be such a balance between a whole lot of work and perseverance and a whole lot of joy and celebrating to keep our souls alive. As I look back on my last months of being locked down, I have noticed that there are times I get a little bit dark and lonely. Yet, the overall gift of the time I was locked down was amazing talks with my adult children that I never see as much as I would like to. Memories and photos to store up in my heart for years ahead and one more opportunity to mentor, encourage and inspire my children as one who has walked with the Lord for 50 years. A sacred time carved out for us.
Yet it was in the rhythms of creating life and fun that I found their hearts most open. I love this verse as al of you know how much I love to use food and table as a place to inspire faith and pass on truth. And because my children are full-fledged adults with great thoughts and convictions, I learned so much and grew in my own personal life. This:
"So go ahead. Eat your food with joy, and drink your wine with a happy heart, for God approves of this!"
Ecclesiastes 9:7
God was the one who celebrated most from whom I learned to engage in festivity and enjoyment amidst the other serious themes of life—He celebrated Jesus' birth in such an amazing way—bringing light, songs, angels, gifts, excitement in the midst of so much mundane.
There was the true Light which, coming into the world, enlightens every man. John 1:9
Suddenly a great company of the heavenly host appeared with the angel, praising God and saying,
"Glory to God in the highest,
and on earth peace to men on whom his favor rests."Luke 2:13-14
Celebrating is a part of God's nature. The crickets sing to God, the birds chirp to God, the sunrise and sunset sing of His glory, the stars declare His glory and beauty.
God provided mountains to climb and stars to camp under. Music to sing along with and to dance to. Gardens to design. Rooms to decorate. Paintings to hang on walls. Photographs to save beauty and memory. Books to write. Playgrounds to construct. Books to read. Food to prepare with endless possibilities of taste and color. Hot baths to languish in. Massages to melt under. Kisses of children to delight.
I have a serious side to me that wants to understand theology and how to practice my faith from a sincere and devoted heart. But I also have a side that loves to celebrate with friends and family out on my deck at sunset; I love to watch comedies or mysteries, hike a mountain with my golden running ahead of me; laugh at the antics of my precious grandchildren.
Do we sometimes feel guilty at taking a day off and having fun or sleeping in? God is the Father of rest and delight and pleasure as He crafted us with the ability to have great joy.
God was so excited to celebrate the incarnation of His son on earth, that He crafted and designed in his honor a chandelier in the heavenlies for this special occasion. Imagine a Father saying, "I love you so much, I will give you a star for your birthday, and then the wealthiest kings of this small globe called earth will bring riches untold for your birthday present. I have arranged the heavenly host to sing a cantata, filling the sky, just to celebrate this moment, and all the earth will hear of your birthday party throughout all the generations."
Those he chose as the audience were the very ones who took care of sheep, the very symbol of His son–those who probably had hearts most ready to engage in worship, because nightly they delighted in the display of splendor strewn across their ceiling, with twinklings, flurries of comets, galaxies waxing eloquent to the rhythm of their creator's bidding. These who had eyes to see and hearts to worship became the attendees of His celebratory party.
And so, I desire to have such eyes–to see His glory but to share in His pleasure in the natural course of my own life. To hear the melodies that daily display songs of praise in the creation He has made, to see His very fingerprints in the eyes and souls of the precious ones in my home.
And so, in His honor, I bring light into our own personal darkness where we also live in the fallen place, a palette of color into the humble outpost of our daily lives and worship, and we host non-stop melodies proclaiming this momentous occasion–the beginning of light into darkness, redemption of all sin and hurt and failure, the conquering of death through life, and the inception of light snuffing out all darkness.
A mother, the civilizer of life, the artist by His side as Wisdom, "a master workman, daily His delight." (Proverbs 8: 30)
There is a life and hope and energy in this celebrating. It brings all earthly struggles into perspective, a baby bringing life that would conquer all ills, calm all storms, wrest all evil powers, heal all wounds.
"And His name shall be called Wonderful, Counselor, the mighty God, the Everlasting Father, the Prince of Peace."
And so my little room becomes a place of worship each morning–just me and Him, as I ponder His goodness and delight in crafting such a world for our mutual pleasure. And now my heart is filled for my day and all that it will bring, and it will spill over in all the moments of my day, the daily rhythms for having been in His presence and celebrated one more time.
FOR MORE
Leave an iTunes Review These are so important as they help our podcast reach more women with messages of encouragement.

Share with others. My prayer is that this podcast brings encouragement to women and families, and I would be honored for you to tell others about it.

Join my friends and me in membership at Life with Sally, a place for me to share more teaching from the Bible and messages on education, motherhood, discipleship, and more!