By Adele M. Gill   |   Silver Lining Ministries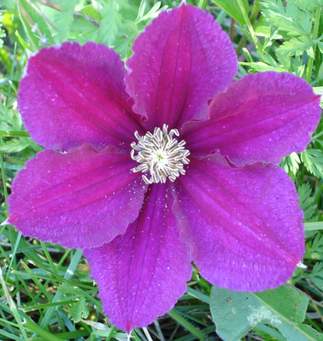 [Be sure and click on the blog title on the blogsite to read full article.]
"Therefore, if anyone is in Christ, the new creation has come: The old has gone, the new is here!'
2 Corinthians 5:17
As I write this blog today from my home in Maryland/USA, the snow is coming down to beat the band. Despite almost white-out conditions here this morning, surely as the winter is long, spring is coming! Really!
Though there are people that read this blog across the US, and beyond, including Pakistan, and Africa, I am certain that we all go through seasons in our lives; cold and sweltering weather seasons/events; jobs, financial insecurity, strained and broken relationships, and difficult circumstances. Yes-we all experience various seasons in our lives that are similar, yet different.  But often when we come through our seasons, we are renewed and are able to enjoy and appreciate new life!
Truth: No season in this life lasts forever–whether it's actually stormy weather, or a metaphor for a season in life such as infirmity, depression, unemployment, poverty. When we walk by faith, trusting and placing our hope in Jesus, we recognize that everything in this life is just temporary. When times get tough, we need to try our best to walk by faith, trust that God is with us, and remember that better times are ahead. The Bible advises us to:
 "…For we walk by faith, not by sight."   2 Corinthians 5:7
Whenever I write this blog, it begins with prayer and a bible passage review. And through this combination of prayer and Bible reading, the Lord shows me whatever I need to know personally, and what I need to share. It is also by finding common threads in mundane surroundings that I know what to write about: people, places and things. In a way, this process produces a subtle knowing, a stirring, a feeling, a repetitive word or phrase that permeates my being, and stays with me throughout the day or night. And each blog writing is a clean slate—often having no idea what will bubble up to write about. These blog writings are most often  about putting aside negativity, focusing on and embracing what is good and right and true, living in the present, and receiving your new life in Jesus:
Isaiah 43:18
"Forget the former things; do not dwell on the past…
Isaiah 43:19
19 See, I am doing a new thing! Now it springs up; do you not perceive it?"
Sometimes the scriptures and topics I receive in prayer are about God's place in this world, woven together with Bible passages relating to current events. Often times, God provides small scriptures to digest and put into action –especially for my readers who are new Christians. Anything longer may present an obstacle to both believers and non-believers. It may not even be contextual, due to the reader's need for brevity. Most of all, this blog is about God Himself, and His unconditional love for all of humanity. Every soul/person. Every country. Every family. Yes, you! No exceptions. It may be just a very brief biblical phrase, a short scriptural message to help people discover God's will for them and to introduce scripture. For God's Love for each of us, as is evident throughout scripture is, indeed, unconditional, boundless and enduring:
Romans 8:38-39
" For I am convinced that neither death, nor life, nor angels, nor principalities, nor present things, nor future things, nor powers, nor height, nor depth,[b] nor any other creature will be able to separate us from the love of God in Christ Jesus our Lord."
© Copyright 2021   |   Adele M. Gill
~ About the Author ~
Adele M. Gill is a retired RN/BSN, and a certified Chaplain. She is the recipient of the 2021 Firebird Book Award for her new self-help book, 'How to Go from Broken to Blest.' This AWARD WINNING BOOK is written for anyone who is struggling in any way, and is
now available at Amazon.
The post Your New Life appeared first on The Inspiration Cafe Blog.